Quite simply, the Gripper Crane is the most efficient and effective piece of equipment for raising a heavy backboard into position, in order to bolt the backboard onto the arms of the goal. The crane does not require any helpers and will allow the technician to erect a goal alone, which translates to more profit.
Many of our technicians install 100 to 300 basketball goals a year by themselves, averaging approximately $450 in net profit, per goal, by utilizing the Gripper Crane (One does not have to have the ability to split an atom to calculate the total profit). There is no other goal installation methodology or tool that is more efficient, less time consuming, and more profitable, period!

Here are some photos of a Gripper Crane being used to install a goal, as well as pictures demonstrating the compact construction and its portability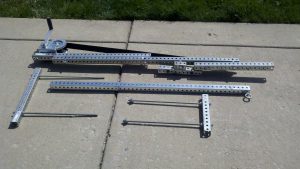 This is the Gripper Crane completed disassembled and ready for installation on a Werner 'A' Frame Ladder. This crane is incredibly portable and ready for use in a matter of minutes.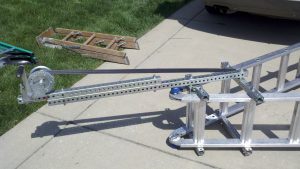 Once The Gripper Crane is fastened to the ladder, the entire structure is ready to be stood up and anchored down to your vehicle with a strap. Anchoring down the ladder will prevent the structure from tipping forward when the backboard is lifted with the wench at the top of the crane.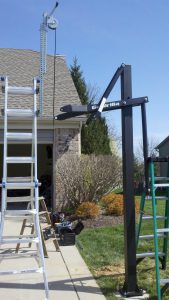 Note the positioning of the ladder in front of the goal.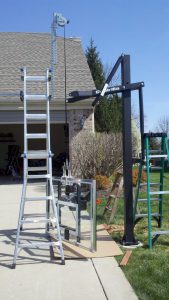 The Gripper Crane takes its name from the giant 'C' clamp vice-grips that grip the backboard on both sides. Heavy duty nylon blocks are affixed to the vice-grip ends so as not to crack the backboard. Once the vice-grips are in place, The backboard can be easily cranked up into position to be bolted into place on the arms of the goal.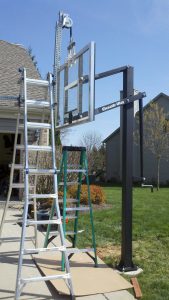 This is a good view of the crane having lifted the backboard into position. The backboard has been easily bolted down, eliminating the need for helpers.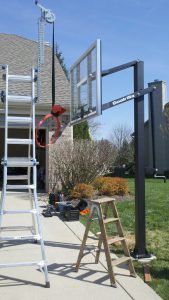 The Gripper Crane becomes a great "third hand" when you're trying to install the pesky rim by yourself. Again, no helper needed with the Gripper Crane.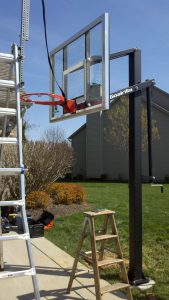 Now that the rim is installed, all that's left is to hang the net and affix the footage indicator.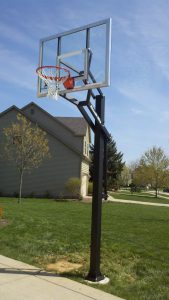 And there you have it, the finished basketball goal, installed by yourself without any help. Best of all, the profit is all yours and you don't have to share it with helpers.
If you are interested in purchasing a Gripper Crane, send your request to me by way of email, or you can use the request form in the contact section of this website. I will be happy to make arrangements for you to own a Gripper Crane so you can increase your profit structure. The investment in this incredible tool will be well worth it, and you will recoup your investment very quickly.